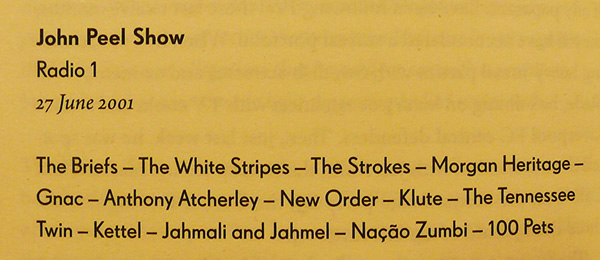 "good night and good riddance", de david cavanagh, transita por 265 programas apresentados por john peel, de 1967 a 2003… através deles, o autor conta trocentas Histórias conectadas ao mais importante radialista que já passou pelo planetinha… além disso, cada um dos programas escolhidos é identificado pelos intérpretes que foram ao ar e por um fato jornalístico importante que tenha ocorrido no mesmo dia.
em 27junho2001, john peel tocou o cardápio acima (isso, com nacão zumbi), cavanagh relembrou a falta de paciência de JP com o estrelismo de bandas hypadas, comentou as alfinetadas que foram dadas aos colegas de BBC e destacou a creca ocorrida num julgamento para contextualizar o "ambiente" da época… só que para nós, o tal fato jornalístico relevante foi impiedosamente omitido (hahaha) pelo autor… já que – exatamente – nessa edição, john peel, ao mostrar a primeira session com o the strokes, comentou a mensagem de marcelo "caipirinha" e mencionou o programa roNca roNca… desorientação máxima que é lembrada & celebrada, desde então, como introdução ao jumboteKo… simples assim!
AQUI você fica sabendo mais detalhes desse john peel show.