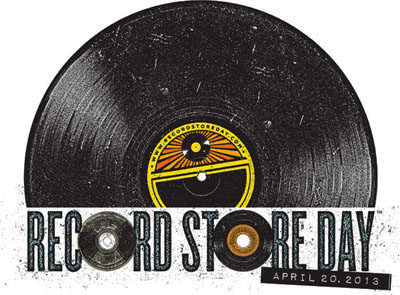 § Adrian Lloyd Lorna b/w Got a Little Woman Gold Vinyl (Sundazed)
§ Alfred Hitchcock Presents b/w The Munsters (TV Theme Songs Death Waltz 7″–coming to U.S.)
§ Avett Brothers and Randy Travis Music from CMT Crossroads–February Seven (featuring Randy Travis) b/w Three Wooden Crosses (Featuring Avett Brothers)
§ Best Coast Fear of My Identity b/w Who Have I Become 7"
§ Biffy Clyro Black Chandelier (LIVE from Switzerland–1/19/13 b/w City of Dreadful Night 7″ (2000 copies)
§ Billy Bragg No One Knows Anything Anymore b/w Song of the Iceburg 7″
§ Black Keys / Iggy & The Stooges No Fun Side by Side Split colored vinyl 7″ (7500 copies)
§ Black Lips/Icky Blossoms split—Black Lips Mamas Don't Let Your Babies Grow Up to be Cowboys (Willie Nelson/Waylon Jennings cover) b/w Icky Blossoms Arabian Knights (Siouxsie & The Banshees cover) 7″–1000 copies only 
§ Blu Thelonius King 7″
§ Bob Dylan Wigwam b/w Thirsty Boots from the forthcoming Bootleg Series Volume 10, features the demo version of Wigwam and the unreleased track from the Self Portrait sessions)
§ Boy Sets Fire Bled Dry 7″ (1000 copies only, clear/colored vinyl)
§ Brendon Benson Diamond b/w Good to Me (1997 Demo) 7″
§ Cake Sheep Go to Heaven (live) b/w Jesus Wrote A Blank Check (Live) 7″ Colored Vinyl (2000 copies only)
§ Cheech & Chong  Earache My Eye b/w Turn that Thing Down(limited Green vinyl 7")
§ Chet Atkins Black Jack EP (Midnight, Boo Boo Stick Beat, Blackjack, Blue Moon of Kentucky) Red Vinyl (Sundazed)
§ Cooper I Wanna Love You b/w Baby I Love You
§ Dan Deacon Konono Ripoff No 1 individually numbered 7″ (500 copies only)
§ David Bowie Drive-In Saturday b/w Drive-In Saturday (Russel Harty Plus Pop Version) Picture Disc 7″  (3000 copies)
§ David Bowie The Stars Are Out Tonight b/w Where Are We Now?  First vinyl single off new album on white vinyl!
§ Deep Purple/Type O Negative Highway Star Side By Side 7″ on purple/clear vinyl.
§ Dio/Killswitch Engage Holy Diver Side by Side 7″ on oxblood red vinyl.
§ Donny Hathaway Never My Love b/w Memories of My Love 2500 copies
§ Doors / X Soul Kitchen (Side by Side Release) Split milky clear colored 7″
§ Drew Holcomb and the Neighbors Live at Eddie's Attic 7″
§ Duran Duran Is There Something I Should Know? b/w Faith In this Colour  Blue Vinyl 7″ (UK only?? maybe)
§ Earth Crisis Firestorm 7″ 900 copies on red vinyl
§ Eli Paperboy Reed WooHoo b/w Call Your Boyfriend  7″ (3000 copies)
§ Elliot Smith Alternate Versions from Either/Or 7″  (features 4 unreleased outtakes from the Either/Or sessions) (3500 copies)
§ Frank Turner Recovery b/w We Shall Not Overcome 7″ (500 copies)
§ Frank Zappa & The Mothers of Invention I'm the Slime b/w Montana remastered from original analog source, Montana is a 2013 single edit with an additional 25 seconds of music) on Green Slime colored vinyl (3000 copies)
§ Free Energy Girls Want Rock b/w Wild Life 7″
§ FUR, FAWN, The Hounds Below and Lightning Love split single
§ Gil Scott Heron & Brian Jackson The Bottle b/w Your Daddy Loves You Green Vinyl 7″
§ Golden Void Rise To The Out of Reach b/w Smiling Raven 7″ limited to 700 copies worldwide (500 for U.S.A.)
§ Husker Du 2×7″ (featuring Amusement, Statues, Writer's Cramp and Let's Go Die (Blackberry Way Studio tracks)  4000 copies
§ Ides of Gemini Hexagram 7″ (450 copies on clear vinyl)
§ Ilsa The IVth Crusade/Seven Sisters of Sleep Messiah split 7″ (Limited to 666 copies on blood red vinyl with 24×36″ "horror movie" style poster)
§ Iron & Wine Next to Paradise b/w Dirty Ocean 7″ (3300 copies)
§ Jason Isbell Pancho & Lefty b/w Elizabeth Cook Tecumseh Valley split 7″
§ JD McPherson Fire Bug b/w A Gentle Awakening Red Vinyl 7″ (1000 copies)
§ Jethro Tull Living in the Past EP (will be UK only)
§ Jimi Hendrix Hey Joe b/w Stone Free numbered 7″ with mono mixes
§ JIMMY EAT WORLD Damage b/w Stop Whispering (Radiohead cover) 7″ featuring new track off their forthcoming album (1500 copies in US, 300 overseas)
§ Josh Rouse Julie (Come Out of the Rain) 7" – First 7" of career; B-side is new unreleased song
§ Katatonia Buildings Limited Edition transparent colored 7″
§ Kate Nash Free My Pussy Heart Shaped Red Vinyl 7″ (1000 copies)
§ Like Rats Like Rats 7″ colored vinyl
§ Los Straitjackets and Freddy Cannon The Sox Are Rockin' b/w Red Sox Nation Limited 7″
§ Low & Dirty Three In the Fishtank Volume 7  Gold vinyl 7″ limited to 500 copies
§ Luther How Can We Rest? b/w Astronomy in Color (Limited edition colored 7″)
§ Mike Cooley To Pretty to Work 7″
§ Mike Watt & The Black Gang Rebel Girl b/w 30 Days in the Hole (2000 only)
§ Misfits/Lemonheads Skulls Side by Side 7″ Picture Disc of various skulls.
§ Moby featuring Mark Lanegan The Lonely Night b/w Lonely Night (Photek Remix) 7″ (500 copies)
§ MYSTERY SIDE BY SIDE RELEASE—7″ SIDE BY SIDE sealed 7″ with artists kept a mystery to be a surprise to the buyer/listener….7″ is on Blue & Red splatter vinyl.
§ Neal Casal Mountains of the Moon b/w Grimes' Surf Story 7″
§ Nick Cave & The Bad Seeds Animal X 7″ Picture Disc
§ Non Phixion I shot Reagan b/w Refuse to Lose
§ O&S  Flowers Turn to Fire  colored vinyl 7″–1000 copies only
§ Old 97s & Waylon Jennings Iron Road  2×7″ featuring unreleased tracks–Iron Road b/w The Other Shoe along with Visiting Hours (Old 97s 1996 demo) b/w Fireflies (Old 97's 1996 demo, take 2) (1000 copies)
§ Patty Griffin Ohio
§ Phoenix Bankrupt Grey vinyl 7″ with patch
§ Pink Floyd See Emily Play (Pink VInyl) 7″ (5000 copies)
§ Pornography  7 Minutes in Heaven 7″ featuring RYAN ADAMS, LEAH HENNESSEY and JOHNNY T YERINGTON (1500 copies in US, 300 overseas)–Remember this pic of them in the studio??
§ Pretty & Nice Q _Q b/w On & On
§ Public Image Ltd  Public Image b/w The Cowboy Song (4000 copies, each hand-numbered)
§ Pujol Deep Cuts colored vinyl 7″–1000 copies only
§ Richard Thompson Salford Sunday
§ Rifle Diet Abuse Begets Abuse b/w Inebriated 7″ (Part 4 of the Profane Existence Single Series on limited colored vinyl (either black, bruise violet, golden brew or opaque yellow)
§ Ringo Starr Singles Box (3×7″ lift-top lid box featuring Photograph b/w Down and Out; It Don't Come Easy b/w Early 1970; and (It's All Down To) Goodnight Vienna b/w Oo-wee and a poster & RSD 45 adapter) (5000 copies)
§ Ringworm 1991 Demos 7″ (black vinyl and colored vinyl versions)
§ Roky Erickson  Mine Mine Mind b/w Bloody Hammer (4000 copies, each hand-numbered on psychedelic swirl colored vinyl)
§ Rolling Stones 5×5 EP…reissue of the 1964 Decca release. (4500 copies)
§ Say Anything/Eisley Try To Remember, Forget (Acoustic) b/w Lost and Found (acoustic) 7″ clear vinyl (CANCELLED–will now only be available on TOUR)
§ Sean Rowe To Leave Something Behind 7″
§ Section 25 My Outrage Limited 7″ with exclusive b-side, 500 copies only (may be UK only…but did show up on one US distribution list I was sent)
§ Sharon Van Etten We are Fine 7″
§ Shearwater & Sharon Van Etten Stop Draggin My Heart Around b/w A Wake for the Minotaur 7″ 3000 copies only
§ Silverstein/August Burns Red Four Minutes Being Cool7″ (features Silverstein covering "Coming Clean" by the Get Up Kids and August Burns Red covering "You Vanda" by Saves the Day) (500 copies only)
§ Sir Douglas Quintent Interpreta En Espanol 2×7″ (Sundazed)
§ Small Faces Green Circles 7″ (Green vinyl 7″ with Mono and Stereo versions of title track)
§ Small Faces Here Comes the Nice b/w Talk to You (7″ reissue of 1967 debut US single)
§ Snapcase Steps   900 copies on white vinyl
§ Songs for Slim Volume 3–featuring the Minus 5 with Curtiss A performing "Rockin Here Tonight" and Tim O'Reagan & Jim Boquist performing "Cozy"
§ Sonny & The Sunsets Imagine (John Lennon cover) b/w Surfer Girl (Beach Boys cover)
§ Sophia Knapp Times Square b/w Sweet May 7″
§ SOUTH PARK  San Diego b/w Gay Fish 7′ picture disc featuring 2 songs from the TV show (2000 copies)
§ Star Trek b/w Lost in Space (TV Theme Songs Death Waltz 7″–coming to U.S.)
§ Surfer Blood Demon Dance b/w Slow Six Tri-colored vinyl release (5000 copies)
§ Superchunk Void b/w Faith Hand numbered 7″, limited to 1000 copies
§ Svarte Greiner/Lakes of Grass and Gold Landscape of Open Eyes 7″
§ T.S.O.L. You Don't Have to Die (1980 Demo–Previously Unreleased) b/w Property is Theft and Dance With Me (both b-sides are Live tracks from the Cuckoo's Nest from 1981!) 7″ 1000 copies only
§ Testament Animal Magnetism (Scorpions cover) b/w Powerslave (Iron Maiden cover) 7″ 1000 copies only Picture Disc
§ The Atlas Moth Black Trees /Wolvhammer Burn split 7" (500 copies only, colored vinyl)
§ The Hold Steady The Bear and the Maiden Fair b/w Criminal Fingers 7″ (1500 copies only (1000 for US))
§ The Lonely Island (featuring Adam Levine and Kendrick Lamar)  YOLO b/w YOLO (Sam F Remix) Yellow vinyl 7″ (3000 copies)
§ The Seeds Bad Part of Town & Wish Me Up b/w Love in a Summer Basket & Did He Die 2×7″ (Sundazed)
§ The Shangri-Las EP features Remember (Walkin' in the Sand) and Out in the Streets b/w I Can Never Go Home Anymore and Past, Present and Future
§ The Strokes All The Time 7" (will be UK only)
§ The Trashmen Mean Woman Blues b/w Big Boss Man Gold Vinyl (Sundazed)
§ Thermals  Desperate Ground Demos 7″ EP 1000 copies only
§ Toadies Down by the Water (PJ Harvey cover featuring Sarah Jaffe) b/w Rattler's Revivial 7″
§ Touche Amore and Title Fight split 7″  Crescent Shaped Depression b/w Faceghost  7″ single (1000 copies)
§ Trey Anastasio Blue Ash & Other Suburbs 7″ Picture Disc (features 3 unreleased tracks from the Traveler Sessions—tracklisting: Blue Ash & Other Suburbs and  Gone b/w Tree and Can You See It?)
§ Trouble In Mind 4 Way Split featuring Jacco Gardner–(Always on My Mind:  Billy Nicholls), The Resonars (It's Alright Ma, It's Only Witchcraft: Fairpoint Convention), MMOSS (Cathy's Clown:  Everly Brothers) and Maston (I Go to Sleep:  The Kinks)
§ Twilight Zone b/w Outer Limits (TV Theme Songs Death Waltz 7″–coming to U.S.)
§ Whirr  Part Time Punks Sessions 500 copies only on "Black on Electric Blue" colored vinyl (originally released digitally to help fix the band's van, features 4 tracks:  Blue, Flashback, Junebouvier and Twist)
§ Willie Nelson Roll Me Up and Smoke Me When I Die 7″ (features Snoop Dogg, Jamey Johnson and Kris Kristofferson) on numbered green vinyl.
§ ZZ Ward 
Grinnin' In Your Face b/w Everybody Wants to Be Famous
 7″
§ *NEW*  The Repos Rejoice in Ruin b/w Haunted Piece 7″ (400 copies only)
§ *NEW*  Street Dogs Crooked Drunken Sons b/w We Fall Apart and I Got Drunk (Uncle Tupelo cover) 7″ (500 copies only on bone colored vinyl)
§ *NEW*  Poison Idea Filthkick EP 7″ (1000 copies worldwide–500 for U.S. on black vinyl)
§ *NEW*  Slipknot S/T EP 7″ (Band from New Haven, CT on Revelation Records, 1000 copies on Orange vinyl)
§ *NEW* Ty Segall Ty Rex 2 7″ sequel featuring new T.Rex covers (1500 copies)
10" RELEASES 
§ Alejandro Escovedo It's A Sin (Eddy Arnold Cover) b/wChris Scruggs Just A Little Lovin' (Will Go a Long Way) (Eddy Arnold Cover) 78RPM 10″  (CANCELLED)
§ Bombino Azamane Tiliade/Si Chilan 10″ single (3000 copies)
§ Dave Brubeck Trio Distinctive Rhythm Instrumentals Red Vinyl 10″ (2000 copies)
§ Face to Face The Other Half 10″ (500 copies only colored vinyl)
§ GARBAGE Because the Night (featuring Screaming Females) b/w Love Like Suicide and Automatic Systematic Habit Costa Cadeu Remix (5000 copies)
§ Ghoul Intermediate Level Hard-Core – A Clearview Records Music Primer Featuring Ghoul (Contains covers of GWAR, Dayglo Abortions, N.O.T.A., Willful Neglect, etc) Red Vinyl 10″ on 190g vinyl
§ Herman Dune Monument Park EP 10″ featuring title track with 4 exclusive unreleased tracks (500 copies only)
§ Joe Bussard Guitar Rag b/w Screwdriver Slide 78RPM 10″
§ Josephine Foster Little Life (1st time on vinyl, originally released as a CD-R in 2001, comes with CD inside) 500 copies
§ Justin Townes Earle Yuma 10″ EP (debut EP, previously only available on CD, Opaque Gold vinyl–1000 copies only)
§ Lee Scratch Perry & The Upsetters Chapter 1 (3×10″ on Red, Green and Gold colored vinyl)
§ Little John's Clark Booty 10″ Picture Disc featuring Little John and Scorcher
§ Marshall Crenshaw Stranger and Stranger EP2 (1st was released on Black Friday 2012)
§ Mumford & Sons Live at Bull Moose
§ Placebo B3 EP 10″ (5 track EP, previously only available digitally) (3000 copies)
§ Punch Brothers Ahoy EP (features tracks by Josh Ritter, Mclusky, Gillian Welch and David Rawlings and more) 
§ Ra Ra Riot Binary Mind 10″ (1000 copies only)
§ Rob Zombie Dead City Radio and the New Gods of Supertown b/w Teenage Nosferatu Pussy 10″ 45RPM single (4000 copies)
§ Scientist Scientific Dub 3×10″ box, limited to 2000 copies on Red, Green and Gold colored vinyl.
§ Sly & The Family Stone I Want to Take You Higher 10" (features EXCLUSIVE b-side that will NOT be available in the upcoming boxset, only on this 10″)
§ Soundgarden King Animal Demos Pink Vinyl 10" (6 tracks) (2500 copies)
§ The Animals The Animals are Back 10″ cut at 45RPM (2700 copies for US)
§ The Animals The Animals is Here 10″ cut at 45RPM (2700 copies for US)
§ The Cal Tjader Trio s/t Orange Vinyl 10″
§ *NEW*  OMD  Night Cafe 10″