já que estamos com a mão na massa…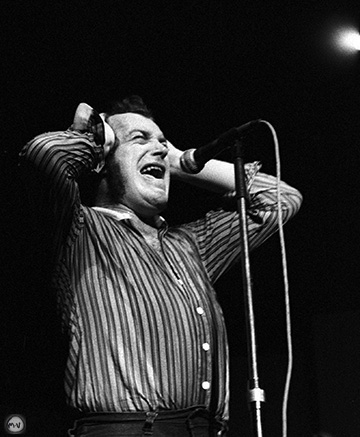 joe cocker / agosto1977 / maracanãzinho (rio)
a peça estava em um de seus momentos mais instáveis… vamos dizer assim!
manguaça fortíssima… lembro Dele chegando ao ginásio – a bordo de um ford galaxie – totalmente chamberlain.
nosso ídolo desceu do 4rodas com uma garrafa de brahma na mão, quase catando cavaco… mamãe!
pensei com meus botões: "cacilds, Ele terá como ficar em pé durante o show?"
que tolinho eu! não só ficou de pézaço como abalou as estruturas do complexo esportivo.
mister cocker fez dois shows no maracanãzinho… ambos à meia boca, de público.
tão impressionante quanto testemunhar a leNda foi o deslumbramento com a banda trazida ao brasa…
com as presenças de bobby keys, no saxofone e… e…
NICKY HOPKINS ao piano…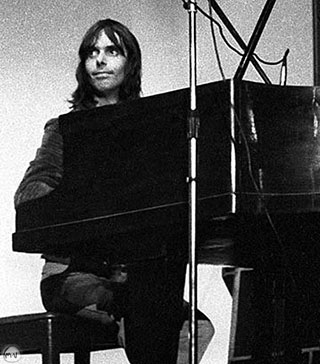 sem nenhuma dúvida, o pianista mais cascudo que já pisou o solo terrestre… claro, na nossa gaveta!
dá uma olhadinha com quem nicky tocou (essa incompleta lista tem uns 50% dos meus discos favoritos, mole)…
Selected performances…
The Kinks, The Kink Kontroversy (1965), Sunny Afternoon (1966), Face to Face (1966), "Mister Pleasant" (1967), "The Kinks Are the Village Green Preservation Society" (1968)
The Who, "Anyway, Anyhow, Anywhere" (1965),[14]My Generation album (1965), "The Song Is Over" (1971), "Getting In Tune" (1971), "We're Not Gonna Take It [movie remix]" (1975), "They Are All in Love" (1975), "Slip Kid" (1975), "How Many Friends" (1975)
The Rolling Stones, "In Another Land" (1967), She's a Rainbow" (1967) on the Their Satanic Majesties Request album ,"We Love You" (1967), "Sympathy for the Devil" (1968), "Street Fighting Man" (1968), "Gimme Shelter" (1969), "Monkey Man" (1969), "Sway" (1971), "Tumbling Dice" and many others on the Exile on Main St. album (1972), "Angie" (1973), "Time Waits for No One" (1974), "Fool to Cry" (1976), "Waiting on a Friend" (recorded 1972, released 1981)
The Beatles, "Revolution" (single version) (1968)
John Lennon, "Jealous Guy" (1971), "How Do You Sleep?" (1971), "Oh My Love" (1971), "Oh Yoko!" (1971), "Happy Xmas (War Is Over)" (1971), Walls and Bridgesalbum (1974)
Paul McCartney, "That Day Is Done" from Flowers in the Dirt (1989)
Ringo Starr, "Photograph" (1973), "You're Sixteen" (1973), "Step Lightly" (1973), "You and Me (Babe)" (1973), "No No Song" (1974)
George Harrison, "Give Me Love (Give Me Peace On Earth)" (1973),[15]Living in the Material World album (1973)
Joe Cocker, "You Are So Beautiful" (1974)
Jeff Beck, "Blues De Luxe", "Morning Dew" (1967), Truth (1967), and Hopkins's own self-penned "Girl From Mill Valley", on Beck-Ola. (1969)
Cat Stevens, "Matthew and Son" (1967), Matthew and Son (1967)
Marc Bolan, "Jasper C. Debussy" (1966-7, released 1974)
Donovan, "Barabajagal" (1969)
Jamming With Edward (jam session with Ry Cooder and some members of The Rolling Stones (recorded 1969, released 1972)
Quicksilver Messenger Service, "Shady Grove", "Edward, the Mad Shirt Grinder", "Spindrifter"
Jefferson Airplane, "Volunteers" (1969), "Wooden Ships" (1969), "Eskimo Blue Day" (1969), "Hey Fredrick" (1969), whole Woodstock set
Steve Miller Band "Kow Kow", "Baby's House (which Hopkins co-wrote with Miller)".
Carly Simon (1972), No Secrets
Peter Frampton, "Waterfall" and "Sail Away" (1974)
Jackie Lomax, "Sour Milk Sea" (1968)[16]
The Move, "Hey Grandma", "Mist on a Monday Morning", "Wild Tiger Woman" (all 1968)
The Easybeats, "Heaven & Hell", and an un-released album titled "Good Times" (1967)[1]
L. Ron Hubbard, "The Mining Song" (1982), "The Banker" (1982)
Dogs D'Amour, "Hurricane", "Trail of Tears", and "Princes Valium" from the Errol Flynn/King Of The Thieves album (1989)
The Jayhawks, "Two Angels" and "Martin's Song"[17] on the Hollywood Town Hall album (1992)
Joe Walsh, "Guilty of the Crime" from the A Future To This Life album (1994), the soundtrack from the Robocop television series
Gene Clark (various recordings)
P.J. Proby, Reflections of Your Face (Amory Kane) from "Three Week Hero" (1969)
pra fechar, joe & nicky na saideira…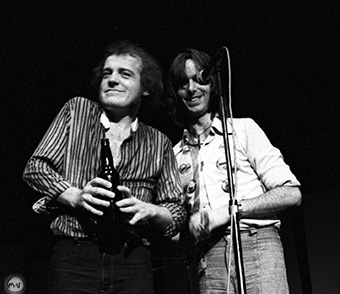 cheers!
( :