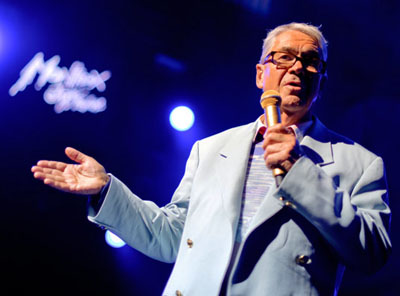 claude nobs
(1936 – 2013)
se alguém fizer a lista dos vinte caboclos mais importantes da música planetária nos últimos 50 anos,
certamente, o nome de claude estará incluído!
entre muitas e muitas traquinices, ele foi o criador do festival de jazz de montreux!
pelos palcos da "festa" (isso, a bagaça é uma festa) passaram 99% dos artistas que gostamos!
pode escolher à vontade!
tirando o fato de ser sido MEGA apaixonado pela música brasileira!
estive com claude em duas oportunidades:
no rock in rio (85), quando fiz umas fotocas dele lado a lado com roberta close no gargarejo do show de rod stewart…
e, em 1987, em montreux, na casa dele, num comes&bebes oferecido aos paralamas!
lembro de ter vagado horas pelos corredores… babando com a discoteca, livros & fotografias autografadas por miles, ella, hermeto… e uma, especial, de elvis costello!
PQParille… perdemos, estupidamente, um gigante da Música!
) :
segura um tasco da História:
The Montreux Jazz Festival was founded in 1967 by Claude Nobs, Géo Voumard and René Langel[1] with considerable help from Ahmet and Nesuhi Ertegün of Atlantic Records. The festival was first held at Montreux Casino. It lasted for three days and featured almost exclusively jazz artists. The highlights of this era were Keith Jarrett, Jack DeJohnette, Bill Evans, Soft Machine, Weather Report, The Fourth Way, Nina Simone, Jan Garbarek, and Ella Fitzgerald.
Originally a pure jazz festival, it opened up in the 1970s and today presents artists of nearly every imaginable music style. Jazz remains an important part of the festival. Today's festival lasts about two weeks and attracts an audience of more than 200,000 people.
In the 1970s, the festival began broadening its scope, including blues, soul, and rock artists, for instance Marianne Faithfull, Led Zeppelin, Pink Floyd, Frank Zappa, Deep Purple, Prince and many others. Towards the end of the decade, the festival expanded even more, including music from all continents (with an emphasis on Brazilian music) and lasting a full three weeks. Santana came to Montreux for the first time in 1970; Van Morrison played in 1974 and 1980. Other artists included BB King, Gary Moore, Weather Report, Crossfire, Buddy Guy, Camarón de la Isla, Soft Machine, Chuck Berry, George Clinton and Parliament-Funkadelic, Eric Clapton, Luther Allison,Bo Diddley, Stan Getz, Airto Moreira, Joe Henderson, Dizzy Gillespie, Oscar Peterson, Charles Mingus, Etta James, Sonny Rollins, Son House, Count Basie, Chick Corea, Herbie Hancock, B.B. King, Gilberto Gil, Ray Charles, James Booker, Hermeto Pascoal, Mahavishnu Orchestra, Rory Gallagher, Stevie Ray Vaughan, Elis Regina,Les McCann, Eddie Harris, Pasadena Roof Orchestra, New Order, Jaco Pastorius, Ringo Starr and his All Starr Band, Toto, André Geraissati, Korni Grupa, Joe Satriani,Status Quo, and many more.
The initiator and—as of 2008—still the head organizer, Claude Nobs, has managed to bring an array of artists to Montreux, both established ones and newcomers