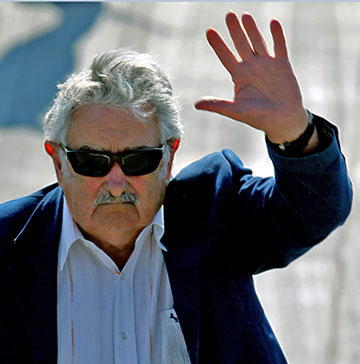 Uruguayan President José Mujica has berated FIFA after football's governing body saw fit to ban Suarez for nine games and four months as punishment for biting an opponent for the third time in his professional career.
Speaking during a live televised interview on a sports programme in Uruguay, Mujica was asked about Suarez's punishment.
"We should take sanctions [against Suarez], but not these [FIFA's] fascist sanctions," he responded in an agitated voice.
He was then asked what he'd remember about the World Cup, to which he replied: "That FIFA are a bunch of old bastards!"
Following his remark, Mujica reportedly covered his hand with his mouth.
He was then asked if the show could broadcast his outburst, to which he answered: "Broadcast it, for me."
It would appear that the president is very much toeing the nationwide line on the Suarez front.
For a clearer explanation of what we're hinting at, we thoroughly suggest you read the account of theUruguayan fan who dared to criticise Suarez which appeared in the Guardian yesterday.