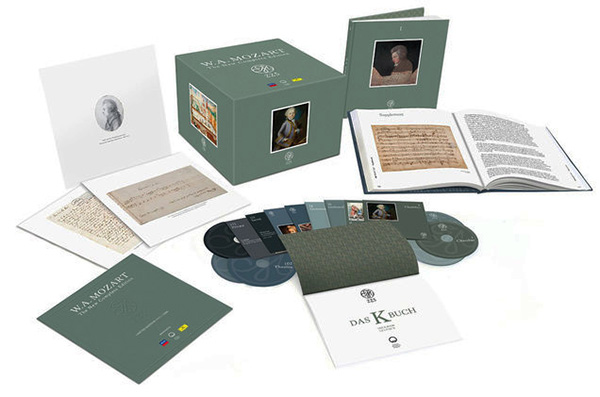 Giant 'Mozart 225' Box Set is 2016's Biggest-Selling CD Release
The biggest-selling CD act of 2016 doesn't sing. He doesn't play guitar and he doesn't tour.  In fact, no one alive has ever seen him.
In a quirky result bound to appear as a question in pub quizzes for years to come, a massive boxed set of Wolfgang Amadeus Mozart's recordings has emerged as the biggest-selling CD release of the year.
Mozart 225: The New Complete Edition has shifted 1.25 million total CDs in the five weeks since its Oct. 28 release, according to Universal Music Group. The collection is formidable in every sense. It comprises a whopping 200 CDs, presenting every work by the classical great; features the talents of 600 world-class soloists and 60 orchestras, and plays for a total of 240 hours (not to mention the many hours of additional reading materials bundled in). Crunch the numbers and that's upwards of 6,250 sold box sets.
Universal unveiled the exhaustive project in late August after 18 months of curation and planning, with the music major declaring it the "most authoritative, complete and scholarly box set ever devoted to the work of a single composer."
The release of Mozart 225 coincides with the 225th anniversary of the Classical-era genius' death. "It is wonderful to see the reaction to this box set, which is the fruit of years of scholarship, planning and curation," comments Paul Moseley, UMG's director of Mozart 225. "Mozart's immortal melodies, no less than The Beatles or Abba, are in some way part of all our lives – and this Edition is the perfect way to celebrate that on his 225th anniversary."
Mozart 225 was produced by Decca and Deutsche Grammophon in collaboration with the Salzburg Mozarteum Foundation.
– enviado pela marcia e retirado DAQUI