cacilds, certamente, um dos responsáveis pela minha saúde auditiva (caso ela exista)!
) :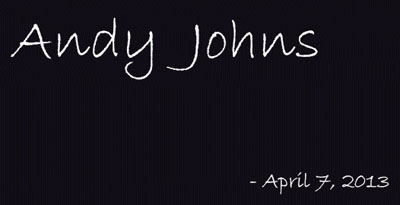 Andy Johns (1 January 1952 – 7 April 2013) was a British sound engineer and record producer, who worked on well-known rock albums such as Led Zeppelin's IV and The Rolling Stones' Exile on Main Street.[1][2] His sound is exemplified by Free's albumHighway, which he engineered and produced.[3][4][5]
Johns, the younger brother of Olympic Studios engineer Glyn Johns, attended The King's School, Gloucester, England in the mid to late 1960s. Before his nineteenth birthday, he was working as Eddie Kramer's second engineer on recordings by Jimi Hendrixand many others. In a career spanning more than forty years, he engineered or produced records by artists ranging from Led Zeppelin and The Rolling Stones to Van Halen and Rod Stewart, whose sales total in excess of 160 million copies.[6]
Johns was the father of Hurt's former drummer, Evan Johns and rock singer/guitarist Will Johns, and uncle of producer Ethan Johns (son of Glyn Johns).
No cause of death was immediately available, although Johns had been hospitalized for liver problems.[7
Discography
Albums produced
Albums engineered