Arquivo da tag: george martin
(1944 – 2016)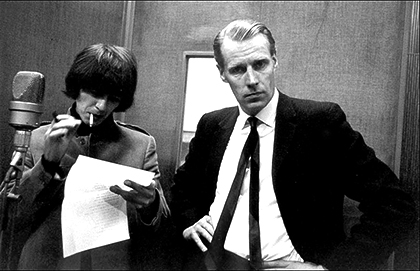 (1926 – 2016)
« JATP Program: Fall 1951 | Main | Interview: Sir George Martin (Pt. 2) »
September 11, 2012
Interview: Sir George Martin (Pt. 1)

A few weeks ago, I rented a car in London and drove two hours west to visit Sir George Martin at his summer home for a Wall Street Journal profile. (The interview appears in today's paper, or go here.) Directions took me through horse country, along narrow roads with dense hedgerows, but I managed to arrive at his home right on time, despite the demands of driving on the other side of the road.
When I pulled up the small hill and through the gate to Sir George's property, I traveled a bit along a ginger-colored gravel driveway before arriving at his 260-year-old home, which he has owned since the 1970s. Almost immediately after I closed the car door, Sir George and his wife, Lady Judith, emerged from the house to greet me.

Sir George was dressed in khakis and an open baby-blue dress shirt. There I was, standing face to face with the man who had produced the Beatles, Cilla Black, Gerry and the Pacemakers, Billy J. Kramer and the Dakotas, Jeff Beck, John McLaughlin, the Who, America and so many others. At roughly six-feet tall, Sir George and I were the same height, looking at each other eye to eye.

Sir George extended his hand and offered a warm hello and a sunny smile. What I noticed instantly about Sir George, in addition to his deep blue eyes, is his voice. It sounds like a cello and is at once commanding and understanding. It's the sound of someone teaching you to sail or pitch a tent. There's enormous experience and confidence in his voice, but there's also optimism, whimsy and a deep, melodic quality that encourages you to dig deep for your best game and raise it a few notches just for good measure.
In Part 1 of my Wall Street Journal conversation with Sir George, the fabled producer talks about growing up outside of London, joining the Navy's aviation unit in World War II, attending music school after the war, and the big break that placed him in charge of EMI's Parlophone label in 1955…

Marc Myers: Did your flair for the dramatic come from watching dogfights between Nazi and RAF planes while living in Bromley as a teen during World War II?
Sir George Martin: Partly. There was something else. When I was a teenager in 1941, there was a film calledDangerous Moonlight, which starred Anton Walbrook. In the film, he plays a concert pianist. There was a special piece written for the film by Richard Addinsell called The Warsaw Concerto. I don't think the film was shown in America at the time, but it was enormously popular here. At the age of 15, I learned to play this composition pretty well just by listening to it.

MM: Just by giving it a listen?
GM: Yes. It was released on record. I also entered a talent competition and won first prize, which gave me some money and cheered-up my parents enormously. They thought their 15-year-old son had been wasting his time. The Warsaw Concerto was a poor man's version of Rachmaninoff, whose piano concertos I also learned to love.
MM: Pretty dramatic stuff.
GM: I'm not a drama queen. I don't throw tizzy fits. I think the music that Rachmaninoff wrote was dramatic and very emotional and touched the heartstrings. But so did Ravel, Debussy and [Gabriel] Fauré. They are my favorite composers. I love the French for their fluidity. Their music just seems to flow, and their command of the orchestra is so magical.

JW: When were you first exposed to a symphony orchestra?
GM: When I was 16, the BBC Symphony Orchestra came to my school and gave a concert, and I had a chance to see Sir Adrian Boult [pictured above] conduct. I had never heard a symphony before, had never seen one. The war was still on. When I sat and listened to these musicians—80 of them playing their different instruments—I was enraptured by them.

MM: Why?
GM: I couldn't believe that the sounds I was hearing were coming from people drawing bows across strings and blowing through little reeds or into brass mouthpieces. It was something I thought was wonderful and, I thought, gosh, that's an amazing sound. I wondered if I could ever write music like that. [Pictured above: The BBC Symphony Orchestra in 1941 in Bedford, England]
MM: When did you start playing professionally?
GM: I was never taught music. When I was 15 or 16. I led my own dance band. I did what Paul [McCartney] and John [Lennon] did many years later—I played in a group. But the music we played was Glenn Miller and Tommy Dorsey. It was music of the day, which we found easy to play.

MM: Did it pay well?
GM: It earned us a few bob on the side and it was just a happy pastime. But my parents warned me not to give up my day job. They never intended for me to make music a career. They were frightened that I would try to do this. They believed that the life of a musician was a hard one. And they were right, by the way. The life of a musician is a hard one and they were quite right to be worried about me.

MM: So clearly you listened to them.
GM: [Laughs] Like most young people, I ignored their advice. You see, the war was on and I didn't want to join the Army. I knew that on the dot of the day that I turned 18, I would end up there. To avoid that, when I was 17, I walked into a Naval recruiting office not far from our home and joined the Fleet Air Arm, which was Britain's naval aviation unit.
MM: What did your parents say?
GM: When I went home and told my mother, she broke down in tears. She said, "My god, you're going to get killed." I said, "Mother, I'm not going to get killed, I promise you I won't." Well, I kept my promise. During the time I was in the Navy, I  corresponded with a wonderful pianist, Sydney Harrison, who was a professor of music at the Guildhall School of Music in London. I had met him through another pianist. Sydney urged me to take up music as a career.

MM: Did you contact him after the war?
GM: Yes. He said, "You have so much talent in this direction. You must do this." I said, "But I've not been taught. I'm 21 now. I can't do it now." He said, "Why not?" I said, "Don't you think I'm too old to learn?" He said, "Of course not. I'll arrange an audition for you with the principal of the Guildhall [pictured above]. If he thinks as much as I do of your compositions and your musicianship, you'll be able to pay your way with a military grant."

MM: After your studies at Guildhall ended in 1950, what did you do?
GM: I went for an interview at EMI and was hired as Oscar Preuss' assistant. Oscar headed Parlophone, EMI's smallest label at the time. Then in 1955, Oscar reached the terrible age of 65 and had to retire. At the dinner honoring Oscar, the chairman of EMI announced, "We've decided that the future head of Parlophone will be George Martin." I was in shock. No one had asked or told me.

MM: For the next seven years you produced jazz combos, classical and comedians—most notably Spike Milligan and Peter Sellers.
GM: They were a means of an end. Peter Sellers had this wonderful mimicry. He could do almost any voice. He did the most wonderful impersonations of Laurence Olivier and Alec Guinness. You couldn't tell the difference. One of my favorites with Peter was a film we did with him dressed as King Richard III reciting the lyrics to A Hard Day's Night in Olivier's voice.
MM: If a hit is a martini, describe the recipe for a Sir George hit?
GM: Well, you need plenty of ice, first of all [laughs]. I relied a lot on my gut instinct and always chose to work with people whose work I enjoyed and with whom I enjoyed working. I don't think I ever worked with an artist with whom I didn't get on well—and if I didn't get on well, I'd get rid of them very quickly. This manner of work often led to friendships.

MM: Who was the oddest of the comedians?
GM: I suppose Spike [Milligan]. He was slightly mad, let's face it, but he had a brilliant, alternative mind. He would never look at anything straight on.
MM: For example?
GM: Just before he died, Spike rang me here at my summer home. But I wasn't here—I was in London. John, my assistant at the time, answered the phone. "Hello?" he said. Spike said, "Hello. I'd like to speak with George Martin, please." John said, "Who's speaking please?" And Spike said, "Why, you are." That was typical of Spike [laughs].

MM: Was your own sense of humor shaped by producing comedians' recordings?
GM: I've never been without humor. It's like a comfortable set of clothes. We were a happy family growing up and a funny family, too. My son [and producer] Giles and I are very much like each other. You need humor in the studio to lighten things up. If you can make people laugh, you've got them in the palm of your hand. They love you for it, particularly if they're nervous. [Pictured above: Giles Martin and Sir George Martin]

JazzWax clips: Back when Britain's coins were larger and music halls were a primary source of entertainment after World War II, BBC radio aired a comedy program called 
The Goon Show. It ran from 1951 to 1960 and featured Spike Milligan, Peter Sellers and Harry Secombe. The trio also made recordings, which were produced by Sir George. You'll find some of them here and here. [Pictured above, clockwise from the top: Peter Sellers, Harry Secombe and Spike Milligan in a Goon Showpromotional photo]
Sir George also made recordings with Sellers that made gentle sport of the Lennon and McCartney's lyrics. EMI Comedy: Peter Sellers features a few of these ingenious recordings. You'll find it here.
JazzWax DVD: Produced by George Martin (Eagle Rock), 
a DVD and Blu-Ray of a BBC documentary with additional material, is being released today in the U.S. You'll find it here.
Here's the trailer…
JazzWax clips: Here's The Warsaw Concerto, that inspired Sir George…
Here's Peter Sellers, reciting A Hard Day's Night, produced by Sir George…
Here's Sellers' Can't Buy Me Love…
And here's Sellers' She Loves You…