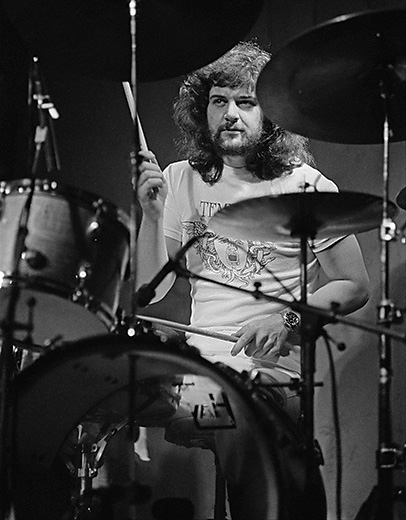 Jon Hiseman, the British drummer, composer and progressive-rock innovator who led the bands Colosseum and Tempest and played in many other groups, died early Tuesday in Sutton, England. He was 73.
His son, Marcus, said the cause was complications of surgery that Mr. Hiseman underwent in May to remove a brain tumor. He had lived in Sutton, a suburb of London, before entering hospice care there.
Mr. Hiseman was a nimble, hard-hitting player who tuned his drums melodically and kept an improvisational spirit through complex pieces. His music held elements of the classical music he grew up on, the modern jazz and free jazz he played early in his career, and the blues and rock that built his career in 1960s London.
The original Colosseum lasted barely three years, from 1968 to 1971. But the band reunited in the 1990s and continued to perform and record for two decades.
Mr. Hiseman also worked extensively with the musical theater composer Andrew Lloyd Webber. He recorded prolifically with his wife, the saxophonist and composer Barbara Thompson, and established a recording studio and a music publishing company, Temple Music.
He explained his philosophy of drumming in a 2004 interview: "Don't play the drums, play the band. If you play the band, the drums will play themselves."
Philip John Hiseman was born on June 21, 1944, in London. He played piano and violin as a child and turned to drums at 12. In his teens, he worked with jazz and R&B groups around London. He also studied accounting.
Mr. Hiseman became a full-time musician in 1966, when he replaced Ginger Baker in a blues band, the Graham Bond Organisation. (Mr. Baker went on to form Cream with Jack Bruce and Eric Clapton.) Mr. Hiseman later worked with the English singer and keyboardist Georgie Fame and with John Mayall's Bluesbreakers, appearing on the group's album "Bare Wires."
As a studio musician, he performed on Mr. Bruce's first solo albums, "Things We Like" (1968) and "Songs for a Tailor" (1969).
Mr. Hiseman married Ms. Thompson in 1967; she survives him. Besides her and his son, he is survived by a daughter, the singer Ana Gracey; a sister, Jill Hiseman; and four grandchildren.
Mr. Hiseman left the Bluesbreakers to start the jazz-rock fusion band Colosseum in 1968, with an initial lineup that included two other former Bluesbreakers, Tony Reeves on bass and Dick Heckstall-Smith on saxophone.
While Colosseum often touched down in the blues, its two 1969 albums, "Those Who Are About to Die Salute You" and "Valentyne Suite," and its 1970 album "Daughter of Time" also drew on big-band jazz, Bach, Japanese music and contemporary chamber music. Its albums reached the Top 10 in Britain, although they received less notice in the United States. After recording "Colosseum Live" in 1971, the group disbanded.
Mr. Hiseman went on to form the progressive-rock band Tempest. Over two years and two albums, it featured the guitarists Allan Holdsworth and Ollie Halsall, who became known as musicians' musicians.
Mr. Hiseman's next band featured the guitarist and singer Gary Moore, who had been in (and would return to) Thin Lizzy. Although Mr. Hiseman initially called the band Ghosts, he was persuaded to use the name Colosseum II instead.
Colosseum II made three albums, releasing them in 1976 and 1977 — difficult times for progressive rock with the punk era dawning — before breaking up. Its members, joined by Ms. Thompson, became the core of the studio band for Mr. Lloyd Webber and his brother, the cellist Julian Lloyd Webber, on the 1978 classical-rock fusion album "Variations," which became a crossover hit and supplied the theme for "The South Bank Show," an arts series on British television.
Mr. Hiseman continued to work with Mr. Lloyd Webber well into the 1980s, in original productions and on the recordings of the musicals "Cats" and "Starlight Express" as well as Mr. Lloyd Webber's classical work "Requiem."
Mr. Hiseman joined his wife's group, Paraphernalia, in 1979, and the couple recorded her jazz and classical compositions and toured through the next decades. They built a recording studio, provided music for films and advertisements, and signed other musicians to their publishing company, Temple Music.
From 1974 to 2002, Mr. Hiseman and Ms. Thompson were also part of the United Jazz + Rock Ensemble, a collective of avant-gardist German and British jazz musicians that recorded 14 albums.
In 1994, Mr. Hiseman picked up where he had left off with Colosseum's members from 1971. Their reunion lasted until a farewell concert in 2015; Ms. Thompson took over on saxophone after the death of Mr. Heckstall-Smith in 2004.
Mr. Hiseman and Ms. Thompson both worked on albums by their daughter, Ms. Gracey, who made an appearance on Colosseum's final album, "Time Is on Our Side."
In April, Mr. Hiseman formed JCM, a trio with the Colosseum members Clem Clempson, on guitar, and Mark Clarke, on bass. The group made an album, "Heroes," that contained music written by former collaborators Mr. Hiseman had outlived, among them Mr. Bruce, Mr. Holdsworth, Mr. Heckstall-Smith, Mr. Bond and Mr. Halsall.
JCM began a tour in April, but canceled it as Mr. Hiseman's brain tumor advanced.
In his long career, Mr. Hiseman released only two albums under his own name as a leader: "A Night in the Sun," a 1982 collaboration with Brazilian musicians, and "About Time Too!," a 1986 collection of drum solos recorded live.
"My album is very good for parties," Mr. Hiseman said with a laugh of "About Time Too!" in 2004, "when you want people to go."